Day 3 of the
World Team Table Tennis Championships 2016
took place in Kuala Lumpur, in the 10,000 seat arena on the 1st March! Rounds 4 of the group matches took place in the men's and women's divisions!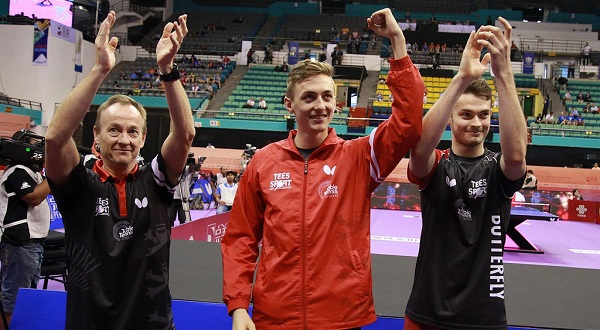 England overcome Germany in round 4! Photo by: ITTF Flickr
Upsets galore in day 3 at the World Team Championships. England's Liam Pitchford, Paul Drinkhall and Samuel Walker defeated seeds Germany in an epic battle. Germany's team were without Timo Boll due to a cold and Dimitrij Ovtcharov because of his back injury. In the opening match Paul Drinkhall gave England the lead with a 3-2 win over Bastian Steger. Liam Pitchford lost the second match 3-1 to Ruwen Filus. England 1-1 Germany. In the third match Samuel Walker had an important win over Patrick Franziska to give England the 2-1 advantage. In the fourth match Liam Pitchford secured England the victory with a 3-1 win over Bastian Steger.
Elsewhere, Russia were victorious over Hongkong. Full results below:
Results - Round 4
China 3-0 Czech Republic
Austria 3-1 Chinese Taipei
Greece 1-3 Korea DPR
Germany 1-3 England
Sweden 2-3 France
Denmark 3-1 Malaysa
Japan 3-0 Ukraine
Portugal 1-3 Poland
Belarus 3-0 Singapore
Korea Republic 3-2 Romania
Hong Kong 2-3 Russia
Croatia 3-0 Italy
Relive day 3 at the World Team Championships watching this high quality video made by the ITTF and presented by STIGA! Enjoy!
For all the latest news, results, videos and to follow all the action from the World Team Championships click
here.
To catch up on all the latest highlighted matches from the World Team Champs visit the
TTD Video Library.
Like and tweet our articles to the World. Lets spread the word of Table Tennis.
TableTennisDaily