The first major event post Rio Olympics took place this week in Chendu, the
China Open
from the 14th to 18th September 2016. The Super Series World Tour event saw the worlds top players take part in the mens singles, womens singles, mens doubles, womens doubles, under 21 mens singles and under 21 womens singles. The Men's Singles Final saw Rio Olympic Champion Ma Long take on world number 2 Fan Zhendong. In the women's singles final saw Liu Shiwen vs Ding Ning.
Full results plus videos below.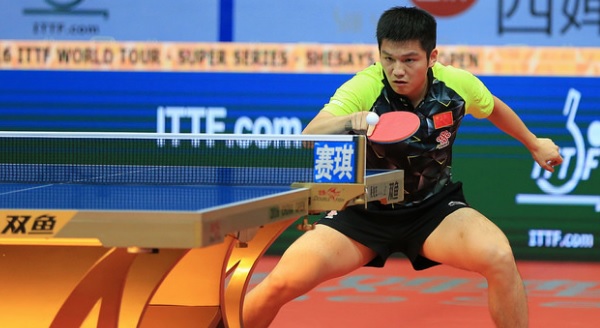 Fan Zhenong Champion of the China Open - Photo by: ITTF Flickr!
For the first time ever in World Tour history Fan Zhendong stands victorious over Ma Long. Rio Olympic Gold Medalist Ma Long stood no chance against the fast improving 19 year old from China as Fan Zhendong disposed Ma Long in 4 straight sets!
In an interview with the ITTF Fan Zhendong expressed, "I have learned a lot from Ma Long over the years, he is a very strong opponent and difficult to beat. Tomorrow I will head for the National Championships in Anshan and then ill go to the World Cup in Germany. I am very happy and lucky to be attending the World Cup. I will keep on going."
On route to the final Fan Zhendong eliminated Yeh Chih-Wei (4-1), Yuto Muramatsu (4-1), Zhou Yu (4-2) and Wong Chun Ting (4-2). In the other half of the draw Ma Long defeated Chee Leong (4-0), Kenta Matsudaira (4-2), Vladimir Samsonov (4-0) and Zhang Jike (4-3).
Watch the Mens Singles final unfold below:
Men's Singles Final: Ma Long vs Fan Zhendong
Women's Singles Final: Liu Shiwen vs Ding Ning
Congratulations to Fan Zhendong and Ding Ning winning the 2016 China Open! For all the latest news, results and videos from the China Open click
here.
To catch up on all the latest highlighted matches from the China Open visit our
Media Library.
Like and tweet our articles to the World. Lets spread the word of Table Tennis.
TableTennisDaily