Last weekend's Agricultural Bank of China 2019 ITTF World Tour Grand Finals saw the 2019 season end with some truly top-class table tennis. Fan Zhendong and Chen Meng were victorious in the men's and women's singles. The Chinese pairings of Fan Zhendong/Xu Xin and Xu Xin/Liu Shiwen came out on top in the men's and mixed Doubles events. The women's doubles was the only event won by non-Chinese players due to Miyuu Kihara and Miyu Nagasaki's brilliant performance.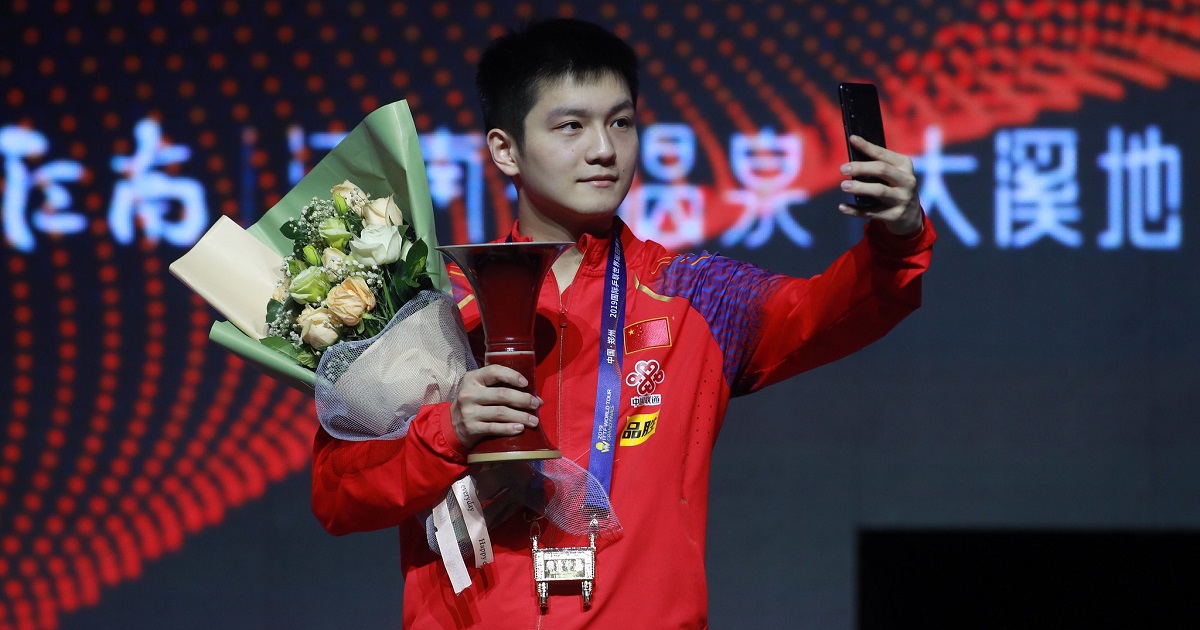 Fan Zhendong the winner of the 2019 World Tour Grand Finals - Photo: ITTF Flickr
Men's Singles
The men's singles had some incredible matches including a dominating performance from Lin Gaoyuan over teenager Lin Yun-Ju who has been a thorn in the side of the Chinese national team during 2019. Lin said of his win at the quarter-final stage;
"I lost to him in our last two encounters so I am eager to win this time. I am fully prepared. I tried really hard to mobilize myself from the very beginning and entered into match condition very fast today. I played very aggressively from the very start. When I was 3-7 down in the first game, I just told myself to calm down and win points by points."
At the same stage of the tournament there were two incredibly close matches in the top half of the draw. Number 1 seed Xu Xin had to 3-2 down against the still incredibly young Tomokazu Harimoto who was in a ferocious mood pushing Xu Xin all the way to 13-11 in the 7th game. Although Xu Xin appeared to be suffering with a wrist injury, the game would still rank as one of the best matches of 2019. Ma Long took on compatriot Liang Jingkun in another incredibly tight game. Ma Long fought back from 3-2 down securing this last 2 sets 11-9 and 11-8. Booking his place in the semi-final against Xu Xin.
It was Ma Long and Fan Zhendong that made it through the semi-finals against Xu Xin in Lin Gaoyuan respectively. The final was a slightly one-sided match with Fan Zhendong clearly dominating the throughout. Fan said of his win against Ma Long who has won this tournament a record 5 times;
"It is never easy to play against Ma Long. He showed and played of very high level yesterday. I just focus on myself and play very patiently. I gave out my best. I did my best." "As you know, I experienced a lot of ups and downs this year. I learnt a lot of lessons from this period. And I hope I can turn these lessons to my fortune."
Women's Singles
The women's singles tournament was predictably dominated by the Chinese team. Only Hitomi Sato of Japan could take out Chinese legend Ding Ning in the last 16. The match of the women's tournament came at the quarter-final stage between Chen Mend and Liu Shiwen. Although Chen Meng took the final set comfortably 11-1 Liu had pushed her all the way by winning 3 consecutive sets from 2-0 down to go 3-2 up. Chen said after the match,
"We both played quite well. But still I made some mistakes on the court. When leading 8-5 in the third game, I became a bit anxious and lost the next few points very quickly. When she managed to come back to 3-2, I just told myself to concentrate on matches and not think about the score."
Liu admitted she couldn't have done much more to win stating,
"She performed really well today especially in the seventh game. I did not have any chance. I led 6-2 in the first game then Chen played out some very good points. I think I did not do well in the first three strokes. The match entered into her rhythm when we played more rallies."
Chen Meng went on to win the final against Wang Manyu 4-1. Chen noted that she had not played Wang for the last 6 months and acknowledged that they were both in good condition. Looking forward to next year, Chen said;
"I am happy to win three consecutive times in the grand finals. I experienced some ups and downs in the last six months. This title for sure will give me more confidence towards next season. I will fight really hard hopefully to get qualified for Tokyo 2020."
Doubles
World number 1 and 2 Fan Zhendong and Xu Xin took the men's doubles title against Liao Chen-Ting and Lin Yun-Ju, dropping just 1 set in the whole tournament.
The women's doubles champions Kihara Miyuu and Nagasaki Miyu had a great 3-2 win in the semi-finals over Sun Yingsha and Wang Manyu. The Japanese pair said;
"I just want to focus on my own matches. To me they are just any other opponents, not World Champion. We played out our level today. We are happy to beat World Champion."
Sun Yingsha whilst feeling disappointed was quoted after the loss saying;
"It is a pity to lose this match. We performed well in the first two sets, but we did not do well in some crucial points especially in game 5. We had two match points, but we did not manage to take the match. Our opponents are very young and challenging. They won World Tour title. They are strong. So it is also normal that they win against us."
In the mixed singles, Xu Xin and Liu Shiwen came through from 2-0 down against Jun Mitzutani and Mima Ito to take the final set 11-9 in another close match.
The 2019 World Tour has been sensational and culminated in a brilliant tournament bringing the best in the world together one last time before we look ahead to an exciting 2020. Tell us what you thought about World Tour table tennis in 2019 over on the forum and what your predictions are for next year.