08/02/2012 - Novak Djokovic the Laureus World Sportsman of the year 2012 use to play table tennis in his spare time as cited on ettu.org. Novak has taken the tennis World by storm winning the Australian Open in 2011 and 2012 and the hardworking star reached four out of five Grand Slams finals including Australian Open (twice), Wimbledon and US Open. The tennis sensation had a 43 match winning streak similar to that of Ma Long! However Novak was interviewed by a Serbian journalist, who was extremely impressed with the skills Novak displayed on a table tennis table.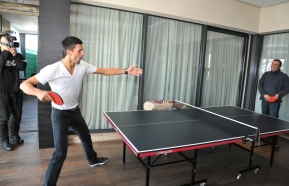 Photo by: ettu
Two days ago Novak Djokovic received one of the most prestigious sporting awards in the World, the Laureus World Sportsman of the Year award overcoming Usain Bolt, Lionel Messi, Dirk Nowitzki and Sebastian Vettel.
Maybe there is a reason why Novak celebrated in similar fashion to World table tennis champion Zhang Jike as seen below. Tennis superstar Rafael Nadal has also been seen playing table tennis
here

Here is a video TableTennisDaily made to show the similarities of Zhang's and Novak's celebration

Lets hope one day a table tennis player preferably Zhang Jike will play a match with Novak Djokovic in a cool promotional event!
TableTennisDaily