We will have the epic repeat everyone! Ma Long and Zhang Jike will face one another in today's Men's Singles final at the
Asian Championships 2012
. Earlier on today the quarter and semi finals took place with the full listings below.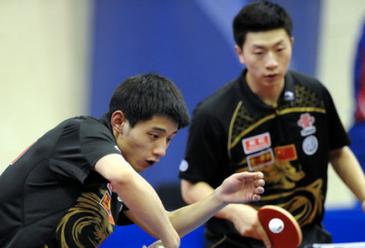 Photo by: sh.xinmin.cn
Quarter Finals
The Chinese trio including Ma Long, Zhang Jike and Xu Xin all qualified through to the semi finals of the Asian Championships on the 1st March 2012. Ma Long the number 1 seed defeated Chuang Chih Yuan in five sets with scores 12-14, 11-5, 11-5, 11-7, 11-6. Zhang Jike and Xu Xin followed suit and defeated their opponents in five sets. Xu Xin defeated Japan's Jun Mizutani with scores 11-9, 10-12, 11-5, 11-6, 12-10. Zhang Jike took revenge on Seo Hyun Deok with scores 11-8, 6-11, 11-6, 11-5, 11-7.
The epic veterens battled it out in the other quarter finals! Wang Hao vs Ma Lin! On this occassion Wang Hao defeated compatriot Ma Lin in an epic 7 games to eventually win the final set 11-9. The scores were 11-6, 5-11, 9-11, 11-7, 9-11, 11-8, 11-9.
Semi Finals
In the semi finals Ma Long crushed team mate Xu Xin in four straight sets with scores 11-6,12- 10, 12-10, 11-3. Alternatively in the other semi final Zhang Jike defeated Wang Hao in a thriller! The match went to the wire with Zhang Jike just beating Wang Hao 12-10 in the seventh set! Scores were 11-5, 8-11, 11-9, 13-11, 11-13, 8-11, 12-10.
So there we have it! The full men's singles rounds have been played at the Asian Championships with just the final to conclude!
Who will win?
Photo by: Al de man
Zhang Jike or Ma Long?
Congratulations to Ma Long and Zhang Jike reaching the Men's Singles final! To follow all the latest news feeds from the Asian Championships 2012 including the seedings, results, matches and more click
here