Today on the 1st March 2012, Ma Long and Zhang Jike met in the Men's Singles final at the
Asian Championships 2012
. Ma Long played tremendously and won the game in four straight sets. As the match ended, World Champion Zhang Jike avoided shaking hands with Ma Long. This has put the table tennis World in shock!
Zhang Jike apologises
Zhang Jike praised Ma Long's tremendous skills in the match and explained why he did not shake hands with Ma Long at the end of the game.
Zhang Jike expressed in an interview after the game at the conference hall,
"I did not shake hands with Ma long, first of all I want to explain here, I didn't do that on purpose, I was still be preoccupied with the details of the match".
Zhang Jike also posted on his Weibo account from his Iphone that he got so into playing, he forgot to shake hands and apologises. Ma Long reposted, "together"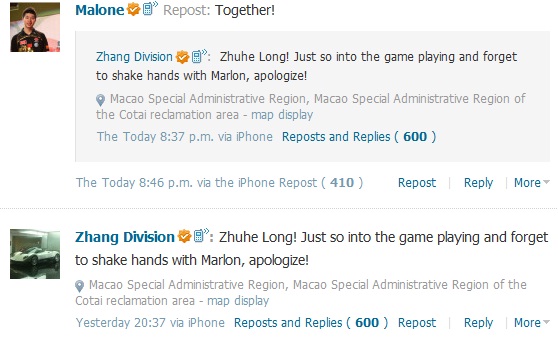 What do you think of Zhang Jike's actions? Click here for the full
debate
Source: sports.sina.com
TableTennisDaily