Tournaments seem to be one after the other lately as just days after the 2013 Korean Open players from all over Asia gather in Hong Kong to compete in the
2013 Asian Cup.
The reigning champions from china Xu Xin and Liu Shiwen are on duty to defend their titles, also present Yan An and Wu Yang.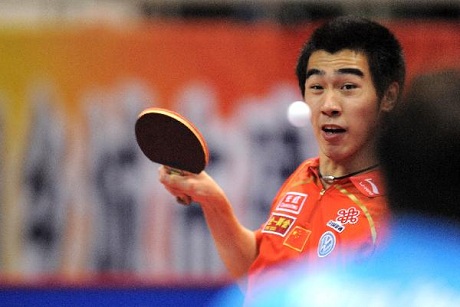 Yan An - photo by: Xinhua/Xu Yu
Today April 12th is the first day of competition and the qualifying rounds proved tricky especially for Xu Xin who narrowly posted a 4-3 victory over South Korean player Seo Hyun Deok (6-11, 11-6, 12-10, 4-11, 9-11, 11-8, 11-6). Meanwhile Liu Shiwen who turns 22 today had a much easier 4-0 victory over Yu Mengyu (11-8, 11-4, 11-7, 11-4).
With both defending champions posting success it was a different story for the talented Yan An who last week caused a stir beating his team mate Zhang Jike, Yan An was defeated by young Japanese player Yuto Muromatsu 4-1 (13-15, 11-6, 9-11, 10-12, 9-11). Another upset among the men was when host Tang Peng was defeated by Iranian Noshad Alamiyan in four games to one (5-11, 8-11, 11-5, 11-8, 11-8)
It will certainly be interesting to see if it is possible for both Xu Xin and Liu Shiwen to defend their titles this year.
Like and tweet our articles to the World. Lets spread the word of Table Tennis.
Source: TableTennisTa
Written by: Emily Standing
TableTennisDaily