Today on the 7th July the
2013 Asian Championships
Men's Singles Final took place in Busan, Korea. The men's singles final was an all China affair with Ma Long taking on rising star Yan An.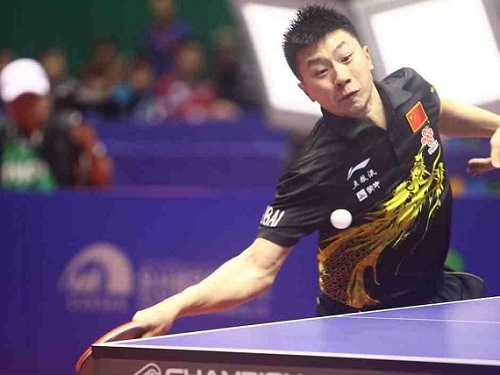 Ma Long in action at the Asian Championships
In the Men's Singles Semi-Finals Ma Long faced in form Kenta Matsudaira. In quarter finals Kenta had a superb win over China's Fan Zhendong. However, Kenta was stopped in the semi finals by no other than Ma Long in 5 sets ((11:5, 11:5, 9:11, 11:4, 11:7). In the other semi final Xu Xin encountered Yan An. Yan An put in an exceptional performance dispatching compatriot and former world number 1 Xu Xin in 4 straight sets (11:8, 11:7, 11:9, 11:5).
Ma Long and Yan An had a great fought in the final of the Asian Championships. Throughout the match Yan An gave his best however Ma Long always had that slight 2-3 point advantage. Ma Long went on to win the match defeating Yan An in four sets (11:5, 11:9, 12:10, 11:9) to achieve his third consecutive Asian Championships Men's Singles Title!
Ma Long the Men's Singles Champion
Congratulations to Ma Long winning Men's Singles Title at the Asian Championships! Join in on TableTennisDaily's full discussion on the
2013 Asian Championships
which includes the full draw, photos, videos, schedules and more! To catch up on all the latest matches from the Asian Championships visit our
Media Library
.
Men's Singles Final
Like and tweet our articles to the World. Lets spread the word of Table Tennis.
Source & Photos: sports.sohu.com
Written by: Dan Ives
TableTennisDaily