Asia have emerged victorious at the
2014 Asia-Europe All Stars Challenge.
After a second day of matches, the host continent were able to maintain the advantage that they gained from the previous day with the final score of 6-4 to Asia.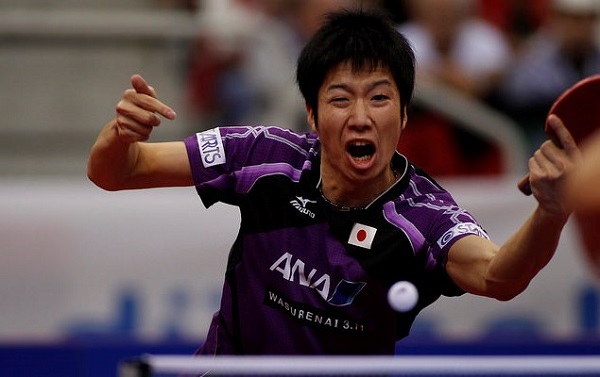 Jun Mizutani - Photo by: ettu.org
Match 1: Jun Mizutani vs Tan Riuwu
At the beginning of day two it was Asia who led 3-2, the opening match was set to be between two left handers this included Jun Mizutani and Tan Riuwu, the match was closely fought however it was Mizutani who was able to take the match in four sets (11-9, 11-8, 13-15, 11-7) this resulted in Asia taking a two point lead.
Match 2: Tang Peng vs Adrian Crisan
Next up was Asia's Tang Peng vs Europe's Adrian Crisan, although the match got off to a slow start it wasn't long before both players began to find their rhythm and with the help of coach Richard Prause it was Adrian Crisan who was able to secure the match in four sets (11-8, 8-11, 12-10, 11-5), this lowered the two point gap keeping Europe's hopes alive with the score now standing at 4-3 to Asia.
Match 3: Chuang Chih Yuan vs Gionis Panagiotis
The third duel of the day was between Asia's Chih-Yuan Chuang and Europe's Gionis Panagiotis, Europe were slightly concerned as their player was experiencing some pain in his right shoulder, however they knew this point was crucial. Within the first two points of the match the game saw some spectacular rallies from the pair, this lead to the Greek player taking a 6-4 lead keeping Europe's hopes alive. However Chuang was able to fight back showing patience against Gionis's defensive skills, this continued throughout the match resulting in a three nil victory for Chih-Yuan Chuang (9-11, 6-11, 11-13).
Match 4: Xu Xin vs Bastian Steger
With Asia now leading 5-3 Europe's hopes were fading and the next match was set to be a challenge and Europe's Bastian Steger was set to play Asia's Xu Xin, infront of his home crowd in a gymnasium packed out with around 3000 spectators. From the beginning of the match, Xu Xin attacked leaving little chance for Steger to get into his rhythm. Europe's number one player out there in China gave his best but was unable to stop Xu Xin's momentum as he looked almost unstoppable, despite a time out from coach Richard Prause, the Chinese player was able to take the match 3-0 (11-5, 11-6, 11-4), claiming another point for Asia.
Match 5: Gao Ning vs Robert Gardos
As the final duel took place between Asia's Gao Ning and Europe's Robert Gardos, Asia had already claimed the title with a 6-3 lead. Despite this both players who are well known for their determination and fight, displayed some fantastic table tennis. Robert played aggressive from the beginning and was able to clinch the first two sets, the third set was full of suspense with both players level at 8 points each, but it was the European player who was able to secure a final point for his team with a 3-0 victory (11-6, 11-6, 11-8).
Congratulations to team Asia! For all the latest news, results and videos from the Asia vs Euro All Star Challenge click
here.
To catch up on all the latest highlighted matches from the Asia vs Euro All Star Challenge visit our
Media Library.
Like and tweet our articles to the World. Lets spread the word of Table Tennis.
Source: ettu.org
Written by: Emily Standing
TableTennisDaily