For the first time in History Austria have taken the gold in the Men's Team event at the
2015 European Championships
. The winning team included: Robert Gardos, Stefan Fegerl and Daniel Habesoh, they were able to defeat Germany 3-2 in the closely fought final.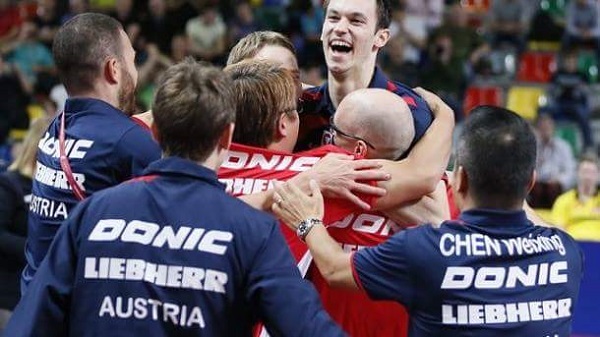 Austria - Champions of Europe!
Gardos commented "We were ready for a long match, we were aware that if you want to beat Germany you have to be prepared to play the marathon. This was shown in my first match and i never gave up, i just kept fighting"
The majority of the matches were closely fought and it was to be Austria's Fegerl to face rge pressure of the fifth match, just as he did in both the Austria vs Russia and Austria vs Portugal matches. In both of the previous matches Fegerl had managed to emerge successful and he was to do the same on this occasion, as he managed to overcome Germany's Patrick Baum in three straight sets (11-9, 11-8, 11-6) claiming victory for his country. Fegerl stated"This time it was easier than in the previous matches, Germany were under a greater pressure, meanwhile i felt and played relaxed."
Men's Team Final - Germany vs Austria
Match 1: Patrick Baum vs Robert Gardos
Match 2: Dimitrij Ovtcharov vs Stefan Fegerl
Match 3: Patrick Franziska vs Daniel Habesohn
Match 4: Dimitrij Ovtcharov vs Robert Gardos
Match 5: Patrick Baum vs Stefan Fegerl
Congratulations to team Austria winning the European Championships! For all the latest news, results, videos and to follow all the action from the singles event from the European Championships click
here.
To catch up on all the latest highlighted matches from the world class event visit our
Media Library.
Like and tweet our articles to the World. Lets spread the word of Table Tennis.
Photo by: ITTF
Source: ETTU.org
Written by: Emily Standing
TableTennisDaily