We wish you an happy new year !!!!

We create the first TABLE TENNIS VIRTUAL CLUB FOR ALL THE PLAYERS IN THE WORLD: CARDIOFITPING CLUB!

We propose PHYSICAL TRAINING SPECIFIC FOR TABLE TENNIS FROM HOME BY VIDEO-CONFERENCE WITH HIGH LEVEL PLAYERS.

LOOK OUR WEBSITE:
http://www.cardiofitpingworld.fr

THE SESSIONS IN ENGLISH WILL START ON JANUARY 17TH. YOU DON'T NEED TO SPEACK GOOD ENGLISH TO PARTICIPATE.

Now the sessions are in french.

We are 2 passionate table tennis players :

Mathieu : Professional player, currently best French defender, professionnal player, DEJEPS Certification.

Jean-Michel : National level, University graduated for sport, teacher and trainer.

Passionate about table tennis, we feel due to lack of time, We think that due to lack of time, physical training for table tennis is not done enough, while it is very important for progress: gaining a fraction of a second changes everything !

The idea is to offer you 2 weekly sessions of physical training for table tennis from your home by video-conference, lasting 45 minutes each : Sunday at 5 p.m (Paris time). and other on another day of the week.
The sessions are in English.

The best and safe at-home workout.
This is open for everyone, to professionals as well as to amateurs. Or you just want to be healthy and get fit , to do better . You will find what you need here.
Benefit from the advice and experience of the top international players, who attend regularly and answer any questions you may ask.

The Cardiofitping method :

A team of Professionals supervise the sessions
A comfortable workout at home to develop your speed, your force, your reactivity and thus progress in ping.
No risk of contamination.
Training becomes a lot more fun in the community.
If you miss a session, we'll send you Replays.
Personalized monitoring for each member
Advice on healthy nutrition.
Friendliness with exchanges, discussions, « Ping aperitifs » to create and maintain connections with others.
Members come from 5 differents countries !!!
Try a « Free trial session ».


https://cardiofitping.systeme.io/essg-ea6f2a0b
You will receive a connection link in return.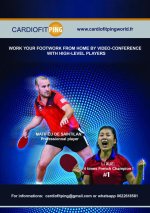 Last edited: