After a previous opportunity to test andro Hexer Grip (45 ° sponge) and Powergrip (47.5 ° sponge), I became a big fan of these rubbers. I have already had few couples of these and I still have them on both main rackets. That's why I did not hesitate when I was given the opportunity to test their younger siblings. They have the same names with the attribute of SFX, which means they are equipped with softer sponge. I have read a lot of positive feedback on andro Hexer series everywhere on the Internet, so it's not surprising that the andro brand has decided to expand this family. In this case, it is certainly not another evolution, but only an addition for players for whose previous versions were too fast and hard. Now almost everybody could find his choice in this series (we still miss a 50 ° variant for a dominant FH, but we probably expect this series to be more of a non-professional player).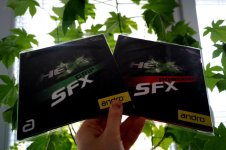 The connection to the previous rubbers is quite obvious from the design of the packaging, which is almost identical. In addition, we find just the SFX symbol.
Hexer Grip SFX and Hexer Powergrip SFX carry very similar (possibly identical) topsheets as their predecessors. The material is therefore again 100% natural rubber. The main difference should be in the hardness of a significant green sponge, which could be found here at hardness of 42.5 degrees and 40 degrees. This difference does not seem to be huge, but the feel of the rubbers is quite different. The SFX Grip generally has much softer feel (from the first touch).
The red AHPG SFX square with a 1,9 mm thick sponge has weight 66 grams. The AHG SFX square in black with a 1,9 mm sponge has 4 grams less, so it has 62 grams. I have glued rubbers to the well-known TB ALC using TSP Bio Fix.
Powergrip SFX had a stiffer impression, quite a bit like its harder siblings. Grip SFX feeling is softer, the ball easier breaks through the rubber and you can more feel the influence of the blade.
The first impressions of the game were fine. Everything was essentially automatic and my hand used to the older Hexers did not notch any surprises. The previous review of the Hexers ended by the fact that the covers are clearly connected together. This also applies to SFX versions. The rubbers have a slightly softer feel, a slightly lower speed, but they have a lot of similarities.
Spin
Thanks to the topsheet rubber which is lightly adhesive (same as previous models), spin is absolutely excellent. The ball feels like bite into a rubbers. The topspin were played naturally and there was a lot of spin in it. In the case of rotation I did not noticed much differences despite the different sponge. HPG SFX is more direct and works better on the more powerfully played topspins (or powerspins). When comparing the arc with the classic Hexers, I would say that Powergrip is definitely the most direct, followed by both with a much smaller gap Powergipe SFX and Grip, and the "arc-est" SFX Gripe.
Speed
These rubbers are built for controlled game close to the table. As I moved away from the table, I had to push more and more, which sometimes ended with time to time defected technique of the stroke and it's not just ideal. When you play the ball well timed on the table you can often easily get your opponent under pressure, for example the fast drive to the incoming topspin has worked great. When I flipped the bat for the same strokes, the speed difference between these two rubbers were noticeable. When you look at the whole family, I think that paper grading works well according to the sponge hardness (PG> G> PG SFX> G SFX).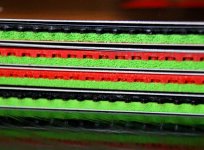 Control
In one word - great. Softer rubbers usually have higher control in catalogue ratings, but "control" is always a very subjective metric. I also have experience with soft sponged rubbers, which were absolutely uncontrollable (mainly because of the bigger catapult effect). I have absolutely no problem with the SFX Hexers, these rubbers play very steadily. The catapult is pleasantly suppressed and I have not noticed any unexpected "kicking". This is a big plus especially for a stable block and short play and chop. These strokes, which basically can not be played not to be close to the table, are really good.
I have to mention that it generally is the main domain of the whole Hexer series. Rubbers have a huge tolerance of imperfectios in the game and you can really rely on them when you need it. Ideal choice for players who would like to develop and work on themselves.
Overall impresion
The addition of softer versions is especially good for people whose game is based on control and try to "adapt" to their opponents playing style. It is nice to see that the softest SFX sponge has unusual 40 ° for Hexers (more usually is 37,5 ° what would be so much in this case). I do not know if it is a result of andro testing but that is good compromise. The Grip SFX is not too muddy and everything works as it should. Now, everyone can find his choice in the Hexer series.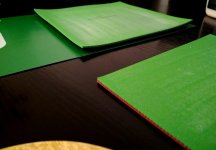 Thank you.