Well-Known Member
Administrator
Hi everyone,
The semi final teams are now in for this years China Super League!
We have made this separate thread for the China Super League 2014 Semifinals & final, so we can discuss & update the results and all other info in one place here
To get all the latest from the last 18 rounds of the Chinese Super League click
here
. TableTennisDaily has an
amazing collection
of every match from all the rounds from the world's largest table tennis league.
Last years Champions Ningbo have reached the semi final stage. Can anyone stop them this year?
Semifinals:
Men: Ningbo vs Jiangsu; Bayi vs Shandong Luneng


Women: Beijing vs Bayi; Ordos vs Shandong
Teams & Players:
Ningbo Haitian Club – Ma Long, Yan An, Joo Se Hyuk, Lin Gaoyuan, Lyu Xiang
Shandong Luneng Club – Zhang Jike, Timo Boll, Hao Shuai, Fang Bo, Wu Hao, Wei Shihao, Liu Dingshuo,
Jiangsu Club - Dimitrij Ovtcharov, Zhang Chao, Cui Qinglei, Lin Chen, Wu Jiaji, Cai Wei, Wang Yikai, Wang Kelin
Bayi Industry Club - Fan Zhendong, Wang Hao, Zhou Yu, Xu Chenhao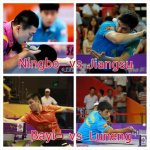 Schedule & results:
=================================
| | | |
| --- | --- | --- |
| Date | Time | Event |
| August 7 | 15:00 - 17:00 | Men's Semifinal 1 |
| | 19:30 - 21:30 | Men's Semifinal 2 |
| August 8 | 14:00 - 16:00 | Women's Semifinal 1 |
| | 16:00 - 18:00 | Women's Semifinal 2 |
| August 9 | 13:50 - 15:45 | Men's Final |
| August 10 | 13:50 - 15:45 | Women's Final |
The playoff semi finals and finals of the Chinese Super League will use the new two toned ball (orange + white) as seen below:
Live stream here: