China will start it's Men's trials for the 2014 World Team Table Tennis Championships on the 25th of January.
Five players will be selected to play in 2014 WTTTC by these trails. The squad trails that will be held in Zhenjiang, Jiangsu province will be divided into two stages. The first stage will take place on January 25 to 28 and the second will be on February 25 to 28.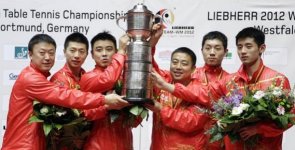 There will be 12 players in first stage. They will compete in Round Robin and the top finisher from each group achieves direct entry into the lineup. The second stage will have 8 players and this time, the competition will be Knock Out style. The winner will have the second slot available. The remaining 3 spots will be decided by couching team.
Confirmed players of first stage:
1- Ma Long
2- Xu Xin
3- Zhang Jike
4- Wang Hao
5- Fan Zhendong
6- Yan An
7- Hao Shuai
8- Zhou Yu
9- Lin Gaoyuan
10- Liang Jingkun
11- Cheng Jingqi
12- Kong lingxuan
Due to the World Tour Grand Finals, players participating including Ma Long, Xu Xin, Zhang Jike, Wang Hao, Fan Zhendong and Yan An have an automatic qualification into round 2. More details in the posts below.
Discuss below!
Last edited: