Well-Known Member
Administrator
Aug 2010

7,060
4,691
Hey Everyone!!
As a thankyou for all the support you've given to tabletennisdaily I am giving one of you lucky winners a chance to win a free Viscaria blade (Pictures Below) worth 70 pound from Butterfly.
Requirements to have an entry in the prize draw:
1) to be a full member by registering to
www.tabletennisdaily.co.uk
(Registration is for free)
2) to have at least 15 posts to their name (genuine posts to, please don't post all 15 posts right away. Do it over a course of a few days otherwise moderators may not feel to select you in the prize draw due to spamming, thanks)
3) to write a comment in this thread starting with:
I want this Viscaria blade because......
The 30 best reasons who want a Viscaria blade go into the prize draw on the 6th December (Me and the moderators here will decide the 30 best, deserved) It can be the most outrageous comment to the faint hearted
. I will make a video and put the 30 selected members into a hat and pick one lucky winner to show this competition is legit.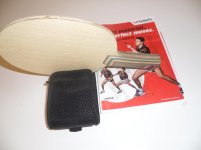 Details of this blade:
Viscaria blades combine the Arylate Fiber features of lightness, flexibility, and shock absorption with the Carbon Fiber features of high elasticity and minimal dissipation of energy. Koto outer plies, Balsa center ply. Viscaria's compact head size makes it ideal for quick re-looping right off the bounce.
Speed: 8.7
Control: 7.2
Feel: Soft
Weight: 90g
So get posting and good luck!
Dan