Some great blades for sale. Want rid of them so the prices are right. Feel free to make an offer on any of them. I'm open to haggling. More photos available if desired. PM me with email or I can link to Dropbox. My MYTT seller/buyer feed back thread:
http://mytabletennis.net/Forum/feedbackkevo_topic54652.html
1.
Nexy Labyrinthos
- Fl, 79 grms; Nexy's classic LP combo blade. It's fast and designed for LPs on 1 side, for inverted or short pips on the other. Loops suprisingly well and has FH power to spare. Works great with LPs or frictionless antispin on the backhand. Nearly new. FL with some sanding on the handle. Hence the amazing price:
50 euro or 60$ shipped US or Europe
(Free sheet of brand new DHS C-8 LPs to the buyer!)
2.
SOLD!!!
Nexy Yoo Nam Kyu-ST; 85 (ish) grms; Nexy's inner carbon looping beauty; limba outer; plays like the slightly faster, prettier sister of Butterfly's ALC Innercarbon. In perfect condition. 80 euro or 90$ shipped US or Europe (Free sheet of well loved but playable Tenergy 05 red max to the buyer!)
3.
Sauer & Troger Unicorn
-ST 87; (ish) grms; Designed specially for LPs and as I said on OOAK forum, it is one of the best LP blocking blades I've ever used. Tames DTecs and makes it dangerous again with the plastic balls. Works a dream with the Hellfire X--kills the pace of big topspins, accelerates backspin and adds disturbance somehow. FH is just too slow for my attacking game. I'm sad to part with it...for a very reasonable
50 euro or 60$ shipped to US or Europe. (Free sheet of used Hellfire X included for listed price!)
4.
Spinlord MIG 2-ST
; 77 (ish) grms; Used twice! Has a larger than average handle which I loved. Could be sanded if too big. Was developed by Michael Schneider and is produced in his high-tech manufacturing facility in Neuwied (Germany) (MIG stands for Made in Germany). Beech 0,6mm (exterior veneer) • Balsa 2,0 mm • Carbon fleece • Kiri 3,2mm (core veneer) • Carbon fleece • Balsa 2,0 mm • Beech 0,6mm (exterior veneer) I really wanted to love this blade...and on the FH I did. It's fast, lovely and direct. I thought I'd found the holy grail of a close to table blocking, attacking blade...but the BH is more designed for a fast short pip or inverted blocking game than my LP blocking game. So, farewell Mig 2.
Yours for 60 euro or 70$ shipped US or Europe
Sold!!!!
5.
BBC H-M-M
; ST (very long handle); 90 ish grms but low balance so not top heavy: 3 plies of...ummm, I've no clue. It's 8.6 mm thick and is great for blocking and hitting at the table; just couldn't get to grips with the...grip? A handmade, beautiful blade, yours for
30 euro or 40$ shipped to US or Europe
. (This blade is probably worth a whole lot more than that but since I know nothing about it, it's going for a song!)
Free sheet of very well...ummm...cured
Xiying 979 LPs (for experimental purposes only, of course!
) to the buyer!

6.

Stiga Defensive Pro; FL (Master); 88 ish grms; Great chopping and (suprisingly) LP blocking blade. Too slow for my FH; great condition; Yours for 40 euro or 50$ shipped to US or Europe (Free sheet of nearly new, red Butterfly Feint Long III 1.1 mm to anyone who buys this!)

SOLD

!!

Also: Brand new in packet, TSP Curl PR-1 (.6 mm Red) to anyone buying more than 1 blade!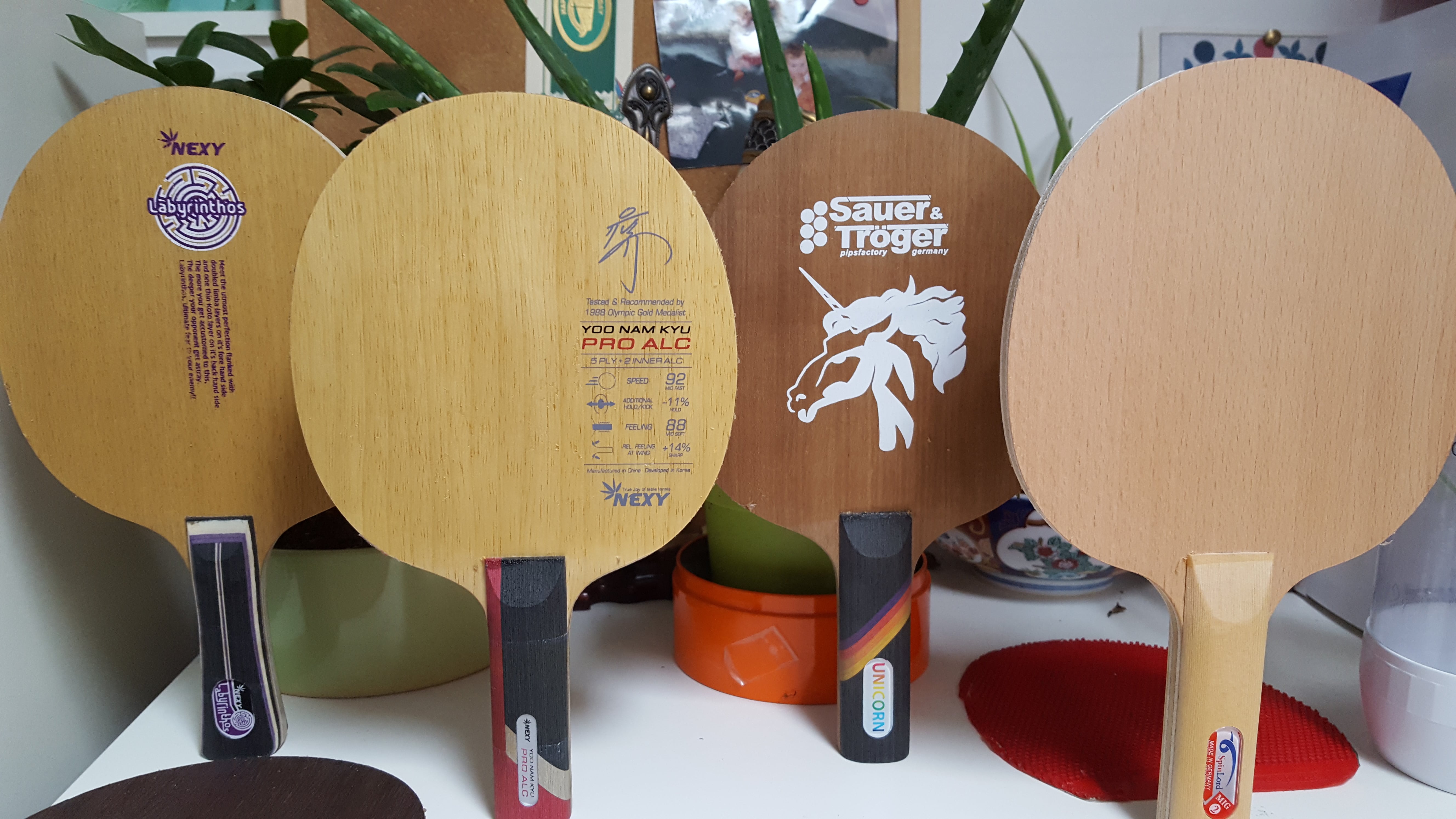 Last edited: