Hi guys! As you know, the race to play singles in the Japan Women's Team has already started. Only the two women with the highest WR on January 1, 2020 will make it. Let this thread serve as both an update and discussion of the very tight race. I made a spreadsheet to keep track of the players' ranking points that will count towards their January 2020 WR.
Just a few notes:
1. This table only counts points from 2019 ITTF events and the 2018 WTTC as these will be the only events that will count towards the Jan 2020 Ranking.
2. Only the Top 8 Events of each player will count towards the ranking. They may play more than 8 events but the excess will not count.
3. There will be three (3) T2 Diamond events this year that will count as bonus WR points in addition to the points from the Top 8 events. Qualifying for these 3 events by playing well in the World Tour could make the difference between playing in the Olympics and watching it from the stands.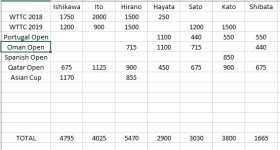 Last edited: