Member
Jul 2012

222
167
Hello TTD!
I haven't been doing this for too long, so I'm still trying to improve my skills. I've got quite a collection of my own handmade blades now, so I thought I'd start sharing some of my older creations here. These 2 were created back in December 2019/ January 2020. For any suggestions (or requests), feel free to comment or PM!
This was made for a friend, a very stiff and fast blade with a slight difference in the forehand and backhand sides.
Composition: Sen (Japanese ash) - Kevlar Carbon - Balsa - Pure Carbon - Sen
OFF+
89 grams
6.6 mm thick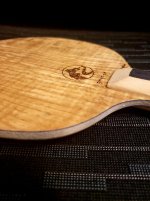 Here's one with a 3 W - 2 fiber composition using a special fiber called Innegra, which at the time, had probably never been used in a table tennis blade before. It does have a unique feel to it, being surprisingly lightweight but still quite fast.
OFF
Composition: Mahogany - Innegra Carbon - Balsa - Innegra Carbon - Mahogany
84 grams
6.8 mm