NON-IMPORTANT STUFF, but Zwill likes to rant:
I actually kind of feel bad about writing this review. I have wrtitten a few and I kinda praise everything. I really feel bad for this because it makes me look like a shill. I am not a shill, I mostly buy stuff or receive them from teammates for testing. I have no connection to any manufacturer. I do review some weird stuff sometimes and I praise them a lot, and I stand by my opinion fully. Most of all I am looking for a setup where I can use a blade with affordable rubbers so I don't have to shill Dignics09c for being so freaking great. (yeah it is truly wonderful, but 100USD is a bit stupid)
I am a great fan of Chinese equipment, Yinhe, DHS are top class brands in my mind in the same category with Butterfly.
Now Joola... If someone would by chance sees my posts from several years back they would see I was not a fan of them. Actually for a long time I thought they are a braindead company. In the 2010s they eqiupment was pretty mediocore, and I am being kind. Their blades were meh, rubbers meh, clothes totally uninspiring etc etc.
With their logo change something happened, it was like a spark that ignited something great and I cannot see Joola the same way since. They must have hired someone who understands marketing and quality and they made smart choices. Like pairing up with the South Korean blade factory. That move was ingenous. I believe it's the same factory that Xiom has built and Xiom blades recently not only match Butterfly quality, they surpass in my opinion. Joola blades actually surpass Xiom quality so I find to struggle a big manufacturer that has higher quality than Joola "Premium" blades.
IMPORTANT STUFF:
So let's start objectively .It is a 7 ply Koto, Green Super-ALC, Ayous, Kiri, Ayous, Super-ALC, Koto composition blade at about 5.8mm thickness. It's pretty much a Viscaria Super ALC clone. My copy weights 85g, which is more on the light side, but I like light blades/setups so I welcome this.
On the frequency test I measured 1530Hz, to give prespective a Viscaria is about 1450Hz, Ice Cream AZX is around 1550Hz, Mizutani Super ZLC is around 1550Hz as well.
So one might think it's a fast blade but not that much faster than a Viscaria. Well I think the objective numbers don't tell the whole story. So let me try.
Speed:
Crazy fast. On my forehand I have been using a Hurrcane 8-80 38 degree rubber, and it is faster than Dignics09c on any blade I have tried it. This includes Ice Cream AZX. Hurrcane 8-80 has a bigger arc than D09c, and with this blade it is faster. This blade makes D09c kinda obsolete since H8-80 is more consistent on blocking, flat hitting, higher arc, possibly higher spin potential and more durable. Only downside to H8-80 that it's about 5% heavier than D09c.
On backhand I have a bit of a trouble with this blade. First I tried a 38deg Yinhe Big Dipper. It was pretty good actually, just I would need a lot of adjustment to it. It was safe, fast as hell, spinny. It had a relatively flat arc which I did not fancy too much but I'm pretty sure I could adjust.
Then I put on a Tibhar Aurus Select. I quite like this rubber, it's great on Ice Cream AZX on BH side and many other blades too. But on the Zhou Qihao Super AL-c 90 it was total garbage. It felt way too soft. Like on ball contact it hit down on the blade immediately and the ball bounced from the blade and the rubber and sponge didn't have time to give any quality to the ball. I fliped the H8-80 to backhand and it felt pretty nice. It was not so flat as Aurus, it had big curve, more contact time. So I think H8-80 38 for FH and 8-80 37deg on BH is a pretty sweet setup.
Actually H8-80 on FH felt super fast, like the ball wants to fly of the the distance, so I might need to update this info. If I can't get used to this speed I might need to step down to plain H8 or H3Neo. I don't have any doubt that this blade is pleny fast enough for H3Neo.
Hardness/kick/amplification:
These characteristics are also in releation to speed. The blade is very hard and crispy, it's very similar to a Viscaria in this regard.
On weak hits the blade wants to repel the ball very much, so good feeling and skill is needed for touch play. However when you start hitting with power the blade starts to hold the ball and the contact time increases. So the blade is begging for you to hit hard. I like it when my blade requests me to play harder and stronger. When you hit the ball hard the blade holds the ball and then releases it with higher speed. H8-80 gives a further amplification it's really in sync with this blade. It gives the needed trampoline effect in the right moment, so the setup feel super fast.
The Aurus Select felt too soft. It hit down on the blade way too fast and the rubber and sponge doesn't have time to absorb and return any energy since the blade repels the ball before. I did not like this at all. It felt like I was playing with sandpaper on backhand. No control, no contact time, no spin.
I feel that these Super-ALC blades need Dignics09c style rubbers. Sticky, slow, hard and high arch types. I am probalby not wrong as several players that use the Super Viscaria are using Dignics and most also use D09c.
Spin:
I will be totally honest, I don't know. With sticky Chinese rubbers I can't feel the spin generation much. I said it before that I can't feel it with H3 BS, I can't feel it with H8-80, either. All I can see is that the ball has high arch and once it land in the barrier I can hear it spinning a lot. Chinese rubbers have not that great feeling, but if you hit hard they give tremendous amounts of spin. D09c you can feel the spin generation more, it is a more user firendly rubber, but I can't confirm it makes more than H8-80. I really don't know but I would not worry about it too much.
Control:
It's pretty linear actually. Fast but linear. I don't know what to say about this. It more depends on the user. You should have pretty good touch for short play.
Sweet spot:
Well now this is a topic that should be exploited. I never felt a blade with larger sweet spot than this. If you bounce the ball on the edge of the racket head the ball bounces almost the same amount than in the middle. This is a very good thing in general and should be praised. I do have an issue with this and it's not the ZQ90 blades fault. I am used to other blades being much less bouncy if I hit tha ball on the edge of the racket. I am used to this feature and I need to adjust to it since it's a problem at the moment. Also the blade give very clear and strong vibrations on strong contacts. (sweet spot is better than on a Primorac Carbon)
Handle:
I really love Joola blades recently. Their handles are fantastic. Trinity FL is probably one of the most comfortable FL ever made but the ZQ90 is a bit thicker and it feels even better. I have zero complaints only high praise for the handle. If you think this is a not so interesting point you are wrong. The handle is more important than anything else I've been talking about so if it doesn't suit you then it's not the blade for you. For me the ZQ90 is like a glove.
Value:
210EUR? Ouch? It's in the Butterfly Super Viscaria territory. But I think Joola is clearly the quality winner here. Jointless wood, better handle, spotless constuction, The Viscaria Super ALC has thinner handle than a normal Viscaria, it is really bad in my opinion. I could argue in some case that a "plain" Viscaria is better than the super Viscaria. But ZQ 90 is a step up compared to Super Viscaria.
Even more less importent stuff:
I have tied the ZQ 90 and 45. They were the blades of Karakasevic with Joola AGR rubbers. He was also testing blades and he let me test his test blades. The 45 is pretty forgettable, I would not spend a cent on it, if you want limba top ply blade get the Trinity, it's much better. But the ZQ 90, damn it has "everything". If you love Chinese rubbers that blade will cater to your need. With Chinese rubbers it's a no brainer and you might skip Dignics... I will.
Pics: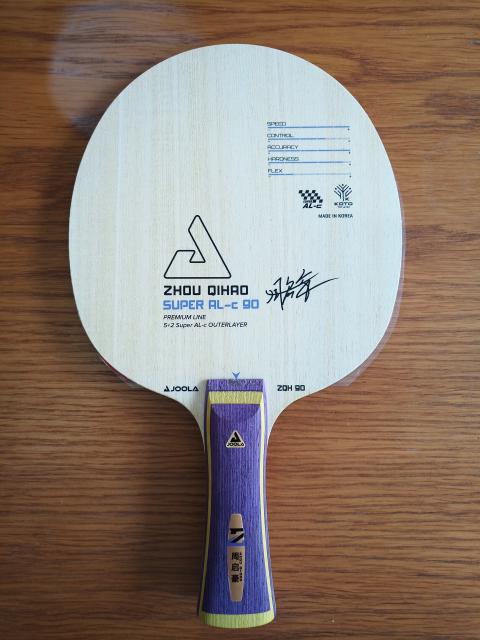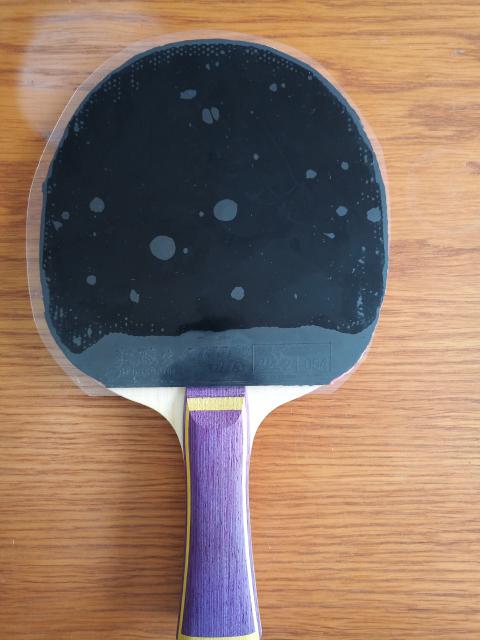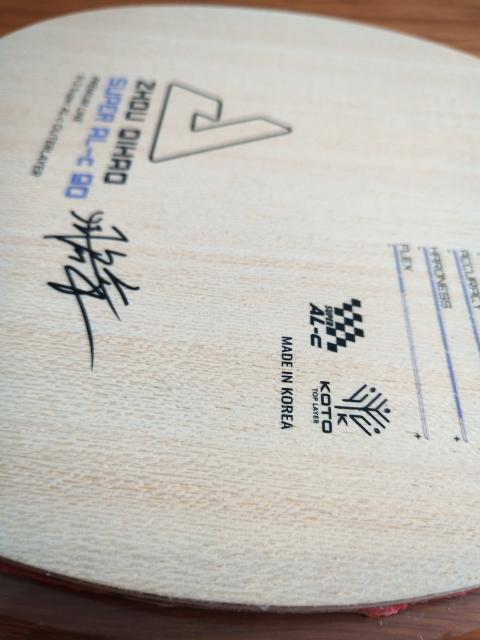 Last edited: