Member
Oct 2011

298
41
Ma Long is my favorite player. I have a lot of videos of Ma Long and and I have been trying to copy his strokes. Now with this pictures and the explanations that it has I hope to perfect the strokes. Here is the Word Document with all the pictures that i edited and the translations to english that I found online. I hope it helps you because i made it for myself just to make it easier to read.... Go to this link and DOWNLOAD it because in word it will look good. Now this is just to watch and not to print because the margins are not ok for the purspose of printing..
Use this link to download the PDF in HD format. The pictures below are not as clear:
https://docs.google.com/file/d/0B2rzsAiZHoRcODYxNzk0OWEtNzRmMC00NmNiLWJjZmEtZjdmN GNlYjQ0OTE0/edit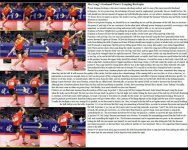 Would advice you to watch this video. What I actually do is to download it in HD720P play it in slow motion with VLC
and this other video that I like Check it in youtube:
This is the full video of Ma long with subs thanks to Jagged Translates.
http://www.youtube.com/user/JaggedTranslates?feature=watch
Here is the playlist for the tutorial of Ma Long and Wang Hao:

http://www.youtube.com/playlist?list=PL862CA54C869040ED&feature=plcp

http://www.youtube.com/playlist?list=PL62917A74AD830A4F&feature=plcp
And the videos: Ma Long
Last edited: