Well-Known Member
Jan 2013

1,055
1,208
Bought some 40+ balls, rubbers and blades I can find from taobao. Just received the 3 star balls yesterday so I have not play with them yet. Doing some bounce test and both seamed DHS and DF balls are similar and stop sooner than C balls. On the other hand both seamless Palio and XSF bounce much longer and higher then seamed P and C balls. They are all bright white and old balls are yellow in comparison.
DF 3 star is not round. XSF is the best in roundness. DHS is similar and Palio is not bad. Only test one each so may not be 100% accurate. And a DHS 1 star is not round like the DF 3 star.
I have TA5 on HL5 BH. It is 35 degree but feel harder than T05. Perfect match to HL5 and both are classed as 40+ gears. But the whole setup is a very heavy 205g. Must be due to the larger than normal head size. I only use 1 layer of WBG without any tuning so it may not suit everyone.
I bought the whole series of six Palio Energy 40+ blades because they are dirt cheap. All six add up cheaper than half piece of tenergy. I have seller glue them for me with a mix of 40+ and normal rubbers from Palio and Kokutaku. 2 blades are all wood, 2 with carbon and 2 with fiber in different combination of plys ranging from 3 ply wood to 5 wood 4 fibers and 6 wood 2 carbons. Too bad the seller did not send me the rubber packages after assembling.
Palio 40+ rubbers are soft and bouncy. Kokutaku rubbers for seamless balls are very hard. Amazingly both approach suits the new ball just fine. Of course they are perfect to play with C balls as well. They all use current rubber names like Amigo, Drunken Dragon, 868 and 007.
Waiting for Stiga Airoc and Donic P balls from Dandoy. Donic is the only orange balls available for now. Can't buy orange Chinese balls yet.
I think I am well prepared.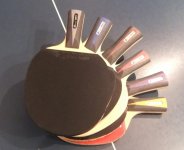 Last edited: