Member
Apr 2015

261
441
NYISC Tournament November 1st Sunday 2015 in New York City
Hi there
Me and my club would like to give a big Thanks to Dan and the Mods for creating a new sub forum called "Local and Club Tournaments". Like the name suggests this section is to promote our local clubs tournaments. I hope more members can use this section to announce there local tournaments. Hopefully this help spread the word and grow our clubs located all over the world. I will start off by promoting our upcoming November 1st 2 star USATT sanctioned tournament here in NYC. Please feel free to ask questions and leave comments.
NYISC (New York Indoor Sports Club) is having our monthly 2 star USATT sanctioned tournament on Sunday November 1st 2015. I am helping out my club and coach to spread the word. Hope to see some of my fellow TTD members show up to play, talk and have fun. I have provided a link to the PDF file and included a screen capture of the tournament entry form. I have joined the club for about 1 year now and welcome any questions. If i cannot answer them, i will ask the club owner and get the information to you if and when possible. Our club is very nice and is up to date with sports vinyl sport flooring, halogen lights and barriers. Our club also features a small indoor soccer/football court. Our club Our club sells gatorade and water. And for all the drinkers out there, our club has a beer license and serve Coronas. If you need more edibles, there is a local 7-11 around the corner. Hope to see you there.
NYISC main webpage (Watch the intro video and you will get a idea of the club.)
http://www.indoorsportsny.com
NYISC November 1st 2015 tournament pdf link
http://www.indoorsportsny.com/wp-content/uploads/2015/09/EntryForm-NYISC-November-2015.pdf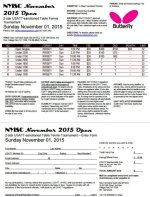 Here is a video link to our Open Singles final match from August 2015 tournament featuring Gao Yanjun 2538 and (Jennifer) Yue Wu 2520. I am the good looking fellow flipping the scoreboard.
I am learning to be a umpire, so i assisted that day.
Please note (Jennifer) Yue Wu is one of our players representing United States in the upcoming 2016 Rio Olympics and Gao Yanjun is ranked #48 in our U.S. Mens rating system. Jennifer trains at our facility on weekends and Gao Yanjun coaches at our club. Our Club has 5 high ranking coaches. Its very cool to watch them train and teach in person.
Last edited: