Bored in lockdown? Have a lot of time on your hands? Why not try and break a world record to pass the time. Here are some table tennis World Records that you could have a go at.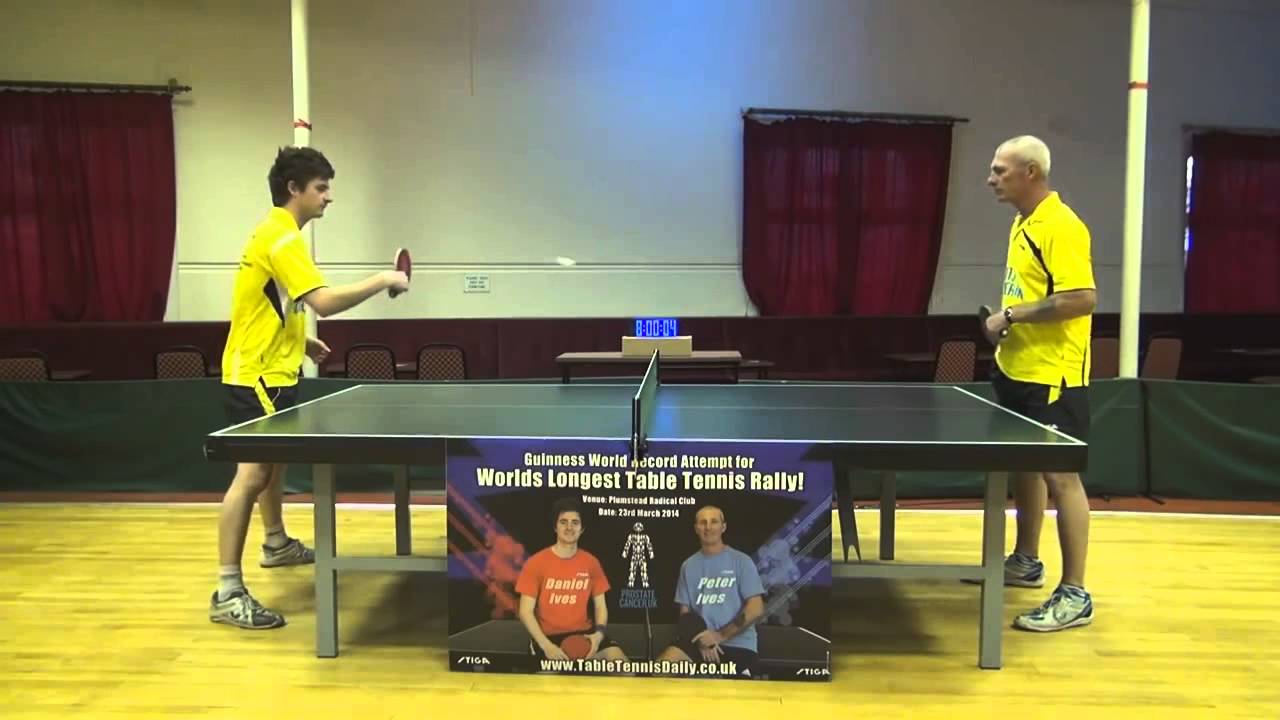 The World's Longest Table Tennis Rally - 8 Hours, 40 Minutes and 5 seconds
1) Longest Time to Control A Table Tennis Ball on The Side of a Table Tennis Bat
This record involves the participant bouncing the ball on the edge of the bat for as long as possible. The current record holder is Christian Roberto López Rodríguez from Spain. Christian managed an impressive 3 minutes and 21 seconds on 30th March 2019 in Cabañas de la Sagra, Spain.
2) Longest Time to Control a Table Tennis Ball on a Table Tennis Bat Handle
This record was broken by Sha Shucheng of China. Left-handed Sha, held the record previously but decided to increase the difficulty by using his right hand in this attempt. He was successful in his attempt on 6th October 2019 with an outstanding time of 18 minutes and 44 seconds.
3) Longest Duration to Control a Table Tennis Ball with a Bat
Another record involving controlling the ball on the bat. This time in the standard fashion of using the face of the bat. If you wanted to try and break this record you would need to match the time of 5 hours, 2 minutes, 37 seconds. This incredible time was set by Aryan Raj of India on 2nd May 2016.
4) Most Table Tennis Ball Bounces On A Racket in One Minute Blindfolded
Stepping up the difficulty somewhat, Alexandre Mitterrand from France broke the record for the greatest number of bounces whilst blindfolded. Alexandre managed a ridiculous 27 bounces without being able to see. This record is a lot more difficult than it sounds. Have a go yourself!
5) Most Table Tennis Serves into a Pint Glass in One Minute
If you've got a table and a pint glass, here is a fun record to attempt. Whilst in quarantine we have seen many players around the world attempting some trick shots. Here is TableTennisDaily's Daniel Ives trying his hand at a few trick shots of his own whilst in the UK is in lockdown.
This record was set back in 2014 by Tomomi Shiobara in Tokyo. During the one minute, Tomomi managed 7 serves into a pint glass.
As a bonus, why not try and break TableTennisDaily's very own world record of the longest table tennis rally. "The Founder" and "The Chairman" achieved an arm aching 8 hours, 40 minutes and 5 seconds also in 2014. The pair raised over £1400 for Prostate Cancer UK. Watch the condensed version below to see who won the longest table tennis rally in history.