Ok the chat lounge is now added for members to use and i have integrated it into the site ......
This works as follows:
Click on the chat Lounge on navtab (pic below)
This will automatically log you into the chat lounge and you will hear this if your sound is turned up ! ........ You can also hear if a new person joins the caht lounge via a sound too !
The picture below shows how you know who is in the chat lounge also whilst you are on site.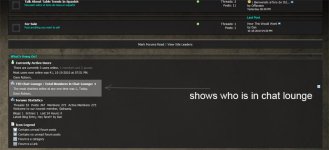 Now im tired its late lol .................. hope this all works for you guys give it a whirl