Name:
Wang Hao
Nationality:
China
Date Of Birth:
December 15, 1983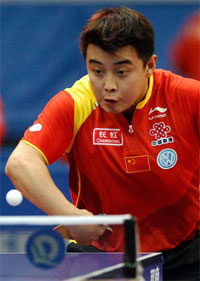 Photo by: megaspin.net
Current World Ranking:
4 (Since June 2012)
June 2012 World Rankings found
here
Career Update:
Wang Hao is the reining World Team Champion!
Playing Style:
Wang Hao is a right handed penhold player who bought a new style in the game table tennis. It was once thought, penholders had no backhand, but had exceptional forehands. Ryu Seung Min is a clear example of this having one the Olympics in 2004 with only a backhand block.
Wang Hao bought a new shot into the sport known as the RPB. Reverse Penhold Backhand!
This shot was first introduced by head team coach of China, Liu Guoliang. This shot allows Wang Hao to really have a great impact on the ball by both wings.
Hao's compact style and ruthless aggression allows him to dominate his player with his killer forehand and with one of the best backhands in the world. Wang has shown using the reverse side of a penhold bat can really get you places in table tennis. He was ranked 1 on the World rankings between Febuary 2008 to July 2009. Hao regained this postion in May 2009 but then lost it again due to the rise of Ma Long. A record of 27 consectuttive months Wang Hao stayed at the top for.
Greatest Results
Click
HERE
to watch the match of Wang Hao's most recent competition win.
- 1996: Wang Hao joined his Provincial Team Jilin and turned pro.
It all began from there!
Many Pro Tour Open Wins
- 2003, Croatia Winner
- 2004, Greece, South Korea Winner
- 2005, Qatar, Winner
- 2006, Slovenia, Croatia, Winner
- 2007, Slovenia, Shenzhen, Japan Winner
- 2 x Olympic mens singles finalist in 2004 and 2008
- 2 x Asian Table Tennis Champion
- 3 x World Cup champion in 2004, 2007 and 2010
- 2012 World Team Championships - Gold Medallist
Wang Hao is using the Hurricane Hao blade. His forehand rubber is the Skyline III Blue Sponge and his backhand is belived to be a Tenergy 64 or a tuned sriver or bryce speed.
Club Represents
Wang Hao is currently representing Jilin Provincial Table Tennis Team of China
--- So who is your favourite player in Table Tennis? Was this profile page of Wang Hao useful? ---
For more player profiles of the World's best table tennis players click
here