Name:
Wang Liqin
Nationality:
China
Date Of Birth:
June 18, 1978 Shanghai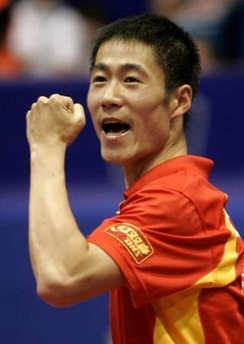 Photo by: Reuters
​
Current World Ranking:
11 (July 2013)
July 2013 World Rankings found
here
Career Update:
Wang Liqin counts to the most successful players in table tennis history and he still ranks among the best. During his career he was 53 month on the Number 1. spot of the ITTF World Ranking. He is known for his steady nerves, for his perfect athletics and for his fairness. He was picked up for the Chinese national team when he was 15 years old.
Playing Style:
(Shakehand-Grip) His playing style is very similar to Ma Longs, he is also a righted two winged attacker with a perfect technique. That's why the TT-Community calls him the "great brother" of Ma Long. At his prime his table tennis was ultimate perfection.
Greatest Results
Click
HERE
to watch the match of Wang Liqin most recent competition win.
- World Table Tennis Champion 2001, 2005, 2007
- Over 20 Pro Tours Title (Qatar, Korea, China)
- Pro Tours Grand Final 1998, 2000, 2004
- World Champion Mixed Double 2005, 2007
- World Team Champion 2001, 2004, 2006, 2008
- Olympic Team Champion 2008
Equipment and sponsor:
Equipment: Timo Boll Spirit; FH: DHS Hurricane III, BH: One of the Tenergy Series
Club Represents
Wang Liqin is currently representing Shanghai Jinzhou Club. One of China's major Table Tennis Teams in the Super League.
Additional information
His hobbys are singing karaoke and languages. He described himself as a good singer. He said that the World Champion Final 2007 was his best match of his whole career. He was loosing 3-1 and 7-1 but turned the match and finally won.
--- So who is your favourite player in Table Tennis? Was this profile page of Wang Liqin useful? Please use the like button at the top of the page to share with your friends on facebook ---
Thanks to TableTennisDaily member
BollForte94
for the bio on Wang Liqin.
For more player profiles of the World's best table tennis players click
here.
TableTennisDaily