Well-Known Member
Administrator
NOW LIVE:
CHINA vs JAPAN FINAL! Live streaming on ITTF here:
https://tv.ittf.com/livestream/table-1/1114628
If you cannot watch the stream check your local broadcaster
here.
For UK users
its live on BBC Sport
here.
2018 World Team Cup, 22 Feb 2018 - 25 Feb 2018, London, England
The first major champions begins in 2 weeks time, the World Team Cup! This prestigious event will be held in the heart of London at the spectacular Copper Box arena with a prize fund of $270,000 US Dollars!
Main Draw
Matches of today - Day 3
Men's Team Entry List
China, the World #1 have entered the World Team Cup as the #1 seed.
CHINA Men World Champions in 2016 (Photo by: ITTF Flickr)
01) CHINA (Fan, Zhendong, Lin Gaoyuan, Xu Xin, Ma Long, Yu Ziyang)
02) GERMANY (Dimitrij Ovtcharov, Timo Boll, Ruwen Filus, Bastian Steger, Benedikt Duda)
03) JAPAN (Koki Niwa, Tomokazu Harimoto, Yuya Oshima, Jin Ueda)
04) HONG KONG (Wong Chun Ting, Jiang Tianyi, Ho Kwan Kit, Lam Siu Hang, NG Pak Nam)
05) KOREA (Lee Sangsu, Jeong Sangeun, Jonghoon Lim, Jeoung Youngsik)
06) SWEDEN (Kristian Karlsson, MAttias Karlsson, Anton Kallberg, Par Gerell)
07) FRANCE (Simon Gauzy, Emmanuel Lebesson, Quentin & Alexandre Robinot, Alexandre Cassin)
08) BRAZIL (Hugo Calderano, Gustavo Tsuboi, Eric Jouti, Thiago Monteiro)
09) ENGLAND (Paul Drinkhall, Liam Pitchford, Sam Walker, David McBeath, Tom Jarcis)
10) EGYPT (Omar Assar, Mohamed El-Beilai, Ahmed Saleh, El-Sayed Lashin)
11) USA (Kanak Jha, Adar Alguetti, FENG Yijun Feng)
12) AUSTRALIA (David Powell, KaneTownsend, Heming Hu)
Women's Team Entry List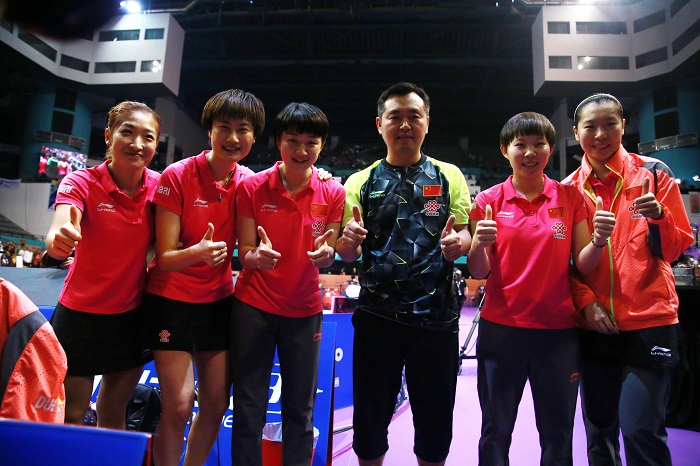 CHINA enter as the #1 seed (Photo by: ITTF Flickr
01) JAPAN (Kasumi Ishikawa, Mima Ito, Miu Hirano, Hina Hayata)
02) CHINA (Zhu Yuling, Manyu Wang, Chen Xingtong, Ding Ning, Liu Shiwen)
03) HONG KONG (Hoi Kem Doo, Lee Ho Ching, Wai Yam Soo Minnie, Ng Wing Nam, Mak Tze Wing
04) CHINESE TAIPEI (Cheng I-Ching, Chen Szu-Yu, Cheng Hsien-Tzu, Liu Hsing-Yin, Chia-Hui Lin)
05) ROMANIA (Elizabeta Samara, Bernadette Szocs, Adina Diaconu, Daniela Dodean Monteiro)
06) SINGAPORE (Feng Tianwei, Yu Mengyu, Zhang Wanling, Herng Hwee Yee)
07) BRAZIL (Caroline Kumahara, Bruna Takahashi, Lin Gui)
08) EGYPT (Dina Meshref, Yousra Helmy, Farah Abdel-Aziz, Galila Nassar)
09) DPR KOREA (Kim Song I, Hyon Hwa Choe, Cha Hyo Sim, Kim Nam Hae)
10) USA (Zhang Lily, Yue Wu, Amy Wang)
11) AUSTRALIA (Lay Jian Fang, Melissa Tapper, Miao Miao)
12) ENGLAND (Tin Tin Ho, Maria Tsaptsinos, Denise Payet, Kelly Sibley, Charlotte Bardsley)
For full entries click
here.
Live streaming links coming soon...
Stay tuned for all the exciting action at this months 2018 World Team Cup!
We can use this thread as a means to display all the latest results, videos and news from this spectacular World event! What are your predictions from each event.