Well-Known Member
Administrator
Aug 2010

7,060
4,691
New Prize Giveaway...
My friends who were participating in the English Open gave me the players bag they got given to them to giveaway to you guys here!
A programme also comes with the bags which is a good read.
So i thank them - Gaving Rumgay and Dave Cochrane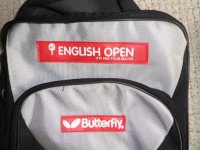 For your chance to win one of these player bags, all you have to do is post below your favourite table tennis match of all time thats on the website
www.youtube.com
.
Paste the link below in this thread and explain why its the best... maybe because its your favourite two players neck and neck or perhaps you have other reasons.
Me and the moderators will pick the top 10 best games and explanations. The top 10 will go into a prize draw
Nice and simple!
-----PRIZE DRAW CLOSED, WILL BE ANNOUNCING THE WINNERS by 7th March, sorry for the wait-----
Good luck!