After several requests to purchase one of my blades, I thought I'd offer one for sale.
For sale: 5 ply Handcrafted blade. Koto - Douglas fir - ayous - Douglas Fir - Koto. 85g. 5.5mm. 149mm by 157mm head size. Flared handle with a thickness of 2.3mm and 3.4mm wide. The handle is made from beech, mahogany and ash with an Australian abalone inlay. It is then finished with a blend of varnish, mineral spirits and oil.
I have sold several of this composition with players describing it as off to off-. It has good speed with high control. As it is relatively thin it also has good flex. Cost 45 euros plus shipping. If you are interested please PM me.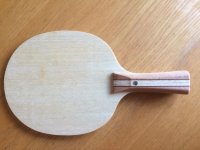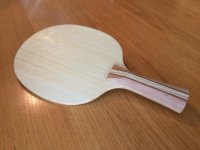 Feedback from players who use or have tried my blade comment on the following:
1) Excellent feel. I believe this is due to the veneering process that I use which is a combination of waterproof and non-waterproof glues which makes it different from mass produced blades. I also use well seasoned and high quality woods.
2) Large sweet spot with excellent control.
3) Excellent balance - I spend considerable time and effort removing the right amount weight from the blade tang and handle to ensure the balance is right. Although the same species, wood can differ considerably in weight and thickness, I alter each blade according to it's particular characteristics rather than having a set process.
If you wish you can view my blade making journey over the last year or so on another thread, in which time I have made 40 plus blades and adapted and significantly developed my skills and understanding. As my blades are handmade, if you look carefully you will see the odd imperfection, however I have high standards and if it doesn't pass those then I will use as a test or practice blade, I would not sell it. I am not planning to start a business or focussed on making money, I enjoy it as a hobby and I see this as an extension of that. If anyone is interested in a different composition please PM me as I particularly enjoy working with people on designing blades.