Hi everyone !
Some may have seen it, Joola has just announced the release of 4 new blades. It's a series with a more accessible price than the Dynaryz series, with an interesting design and composition. Vitor Ishiy and Deni Kozul (professional players) are already using them. The 4 blades have the outer plies in limba.
Joola Tezzo Guardian (59.90€)
The first is a clone of the Clipper in terms of construction. A 7-ply allwood blade whose recipe is far from unknown
Joola Tezzo Paladin (59.90€)
A 5+2 ply blade with the carbon placed near the center (inner soft carbon blade). According to its description, it would be a very flexible All+. If it keeps its promises, we may have a perfect future looper blade.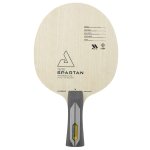 Joola Tezzo Spartan (84.90€)
A 5+2 blade with the carbon placed just below the outer pli (outer carbon blade). Composition similar to Dynaryz Freeze with a rather stiff wood.
Joola Tezzo Warrior (99.90€)
Adopted by Vitor Ishiy, we find a composition similar to the Paladin but with the same type of carbon as that used in the Spartan. Stiffer and faster than the latter, it seems to be more suited to an international player.
I am not personally attracted by this brand but the Paladin model seems very promising to me. Feel free to share your reviews !
Last edited: