contents from Sarah Her-Lee's Blog
I came across three very cool promotional videos featuring Tiago Apolonia (Portugal National Team) and our very own Ola Ratka from New Zealand!!
(New Zealand Junior Team), and Trent Carter and Paul Pinkewich (Australian Senior and Veteran Teams).
Tiago's video is of a streets style, consisting of music and cool ideas of show table tennis in a different way by using an unique venue and objects suchs as cans and steel buckets to showcase the skill of accuracy. Towards the end of the video Tiago comes to a table - again unique in its style and begins hitting with a challenger. What happens next is arguably the coolest thing I have ever seen.....!
Ola's video is of a very different style. Since table tennis is a minority sport in New Zealand, her video shows the audience what table tennis is like internationally, and she explains how much training goes on to prepare for a match. As a junior, she has set her goals on representing New Zealand on the bigger international stage. She openly shares her goals and what she is doing to achieve them. One very important person is her coach Hyo Joo Lee and they show how the training is done behind the scene..
Ola Ratka (New Zealand)
Trent and Paul's video is also of a street style - There are many people that gathered to see a 'fight' between Trent and Paul. They fight (playing table tennis) in a very different way and to a nice sound/beat that goes with the bounce of the ball.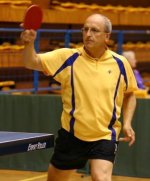 The videos are here:
Tiago Apolonia (Portugal National Team)
Ola Ratka (New Zealand)
Trent Carter and Paul Pinkevich
Last edited: