Standings after the Thailand Open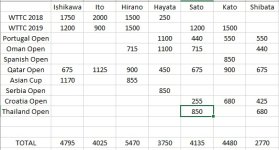 Interesting finish to the Thailand Open. Choppers win both the men's and women's singles. Last time this happened was in the 2016 Croatia Open where Joo Sae-hyuk and Hitomi Sato also emerged victorious.
The Thailand Open win does give a little more life to Sato's 2020 Olympic hope. Her chances to make it are better than Shibata's since Sato played in the WTTC. However, this is only the a challenge series. What's more important are the results in the China, HK and Japan Open for these next 3 weeks, which are really going to move the needle in this race. The long wait is over, and I'm excited to see who seizes the opportunity.
Update for the China Open: the draws for the preliminary rounds are out.
Hayata likely has to go through China's Gu Yuting to make it to the main draw. This should be a good test for her, and we'll see if she can pass through it.