Member
Nov 2015

149
192
Hi all,
After reading lots of threads on tabletennisdaily and other forums, I decided to start making a few of my own blades at the end of last year - really fun and a very addictive hobby. I've been playing for nearly 20 years and tried loads of equipment but the freedom to play around with the compositions has been great.
So far, I've tried Obeche, Balsa, Kiri and thin mahogany as core materials and had some good success but recently I received an amazing batch of Hinoki wood from Mr Shogo Nakamura (
http://tsukiita.jp/
). The wood is beautiful and it gives off a really nice scent - actually makes me a little nervous to use it!
Anyway, I have various veneers in 0.6mm, 1.2mm, 2mm and a few 4mm (some Kumamoto and some Kiso, although this is obviously more expensive) and would love to hear from anyone who has worked with it before. This website's been really useful to get an idea of what is already out there (
https://stervinou.net/ttbdb/liste.php
) but I'd also be interested to hear any thoughts of woods that might pair up nicely with Hinoki or perhaps how it might be incorporated into other tried and tested compositions. I think the first try might be a 5 ply all hinoki blade but I have quite a few woods and a couple of composite materials to play with.
Looking forward to hearing any suggestions or advice!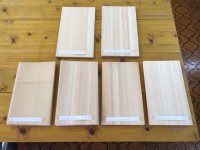 Last edited: