Well-Known Member
Super Moderator
Mar 2012

1,849
1,570
Hi TTD members,
a new year is closing in and hopefully we will get some more time at the table.
This thread will be for all new equipment that will be released in 2021. Let's keep the thread updated.
Looks like that Butterfly will be coming with a new blade soon.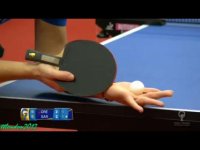 Probably a Franziska Inner ZLC will be released soon. Picture is from the latest CL match between FSC TT and Orenbourg TT